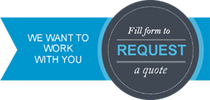 40 Cubic Yard Dumpster
The largest roll-off dumpster is finally here! Let us see what you are going to use this beast for. It can accommodate up to 16 pickup truck loads. It is enormous, isn't it? This is the pride of many construction industries that deal with the commercial building constructions and demolitions.
This 40 Cubic Yard Dumpster is commonly rented out for the following projects:
Window and siding removal
Roof tear-off
Large renovation projects
Construction projects
Building demolition, etc.
In fact, any project that generates large volumes of solid waste needs this dumpster size to better collect and manage wastes. The waste collection and disposal will be very economical in the long run compared to renting many different small roll-off dumpsters. For any large projects such as community cleaning, market cleaning, construction waste removal, etc., this is the right container size that you need.
Where can you rent 40 Cubic Yard Dumpsters?
You have many options in Colorado when it comes to service providers that are ready to offer you dumpster rental services. However, there is a big difference when you start comparing the benefits that clients get from different clients. Fort Collins Elite Roll Offs & Dumpster Rental Services is one of the service providers that is well known in the entire State of Colorado.
Renting your dumpster from us comes with many benefits. Just come to our website and place an order for a 40 Cubic Yard Dumpster or any other roll-off container size that you need for your projects. We have many different dumpsters that are ready to be rented out, but that will only be possible if you are using the services that we offer. We are an all-in-one service provider with many years of experience in the industry. You will surely get the dumpster container that you need.
Is it economical using one large dumpster as opposed to many small dumpsters?
There is no doubt about that statement. You stand a chance to save a lot when you can rent one large dumpster and not getting many small dumpsters. Why is that the case? There is a fixed charge on each roll-off dumpster that you rent. Again, you will also be charged daily on every container that you have rented out. The cumulative cost for renting many individual containers is likely to be higher than just one fixed charge and daily rental charges of one 40 Cubic Yard Dumpster.
However, there are some cases the necessitate the need for using many small or medium-sized dumpsters. When the driveway is small or when you are moving your business or home and you have different categories of goods and properties that should not be mixed together, you will need more than one dumpster to have them transported to the destination. For convenience, small roll-off dumpsters can carry the day.
Rent roll-off dumpster today!
Do not hesitate to rent a dumpster that you can use in collecting all types of solid wastes. You can contact us to get a dumpster of your choice!
We offer the best dumpster rental services throughout the state of Colorado.
From roll off dumpsters to residential & commercial cleanup services, we are your top choice when it comes to finding a reputable dumpster company in your area.
We offer the best dumpster rental and cleanup services in Fort Collins, Colorado. We also offer roll-off dumpster services, residential & commercial cleanup services, small & large dumpster rentals, construction cleanup, waste containers, junk removal dumpster services, demolition removal dumpster services, & much more.